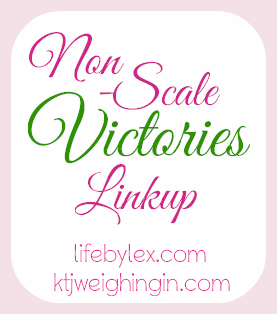 Time for another round of Non-Scale Victories! I apologize in advance, because I'm going to be a bit of a broken record. I shared my
JMBR - Phase 2 results
on Monday, and I'm going to recap them once again today.
1. As of this past Sunday, I have lost well over 17" around my body so far. (Probably over 20", but I was a slacker and didn't take all my beginning measurements.)
2. I got brave this week and shared my progress pics. I'm starting to notice a difference in my upper body, which feels really great. (Once again, I was a slacker and didn't take official before pictures. So I'm missing a 195 lb pic)
3. I started JMBR - Phase 3 on Sunday and I am LOVING it. It's brutal, but awesome. Back in Phase 1, I could not hold hollow-man or boat pose for the life of me. In weeks 9/10 there is an exercise where you hold boat pose for 10 seconds, then slowly lower to hollow man for 10 seconds, back to boat etc... without collapsing, or breaking on the floor. I can do it! 3 months ago I couldn't hold either of those poses for 10 seconds, and now I am able to alternate the two like nothing.
Throughout all of Jillian's DVDs, she almost always makes a comment saying, "You have no idea what your body is capable of. Push yourself..." Quite honestly, in the midst of a workout, I am thinking SHUT UP, Jillian. I hate you. Truth is, she's right. I realized this earlier in the week when I was able to complete moves I never thought possible. Since that moment, I am loving my workouts. It's not something I have to do. I look forward to them. I'm excited to push myself past my comfort zone and see what else I can do.
----
Don't forget, Google Reader is leaving us at the end of the month! Follow me on Bloglovin' so we don't lose each other!