Heather over at
From Here to There
has started an awesome exchange called Bloggers Helping Bloggers.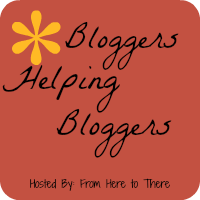 You're not going to go broke with this, or you don't have to anyways. It's all about encouraging and getting to know one another. Click the button to see how it works and hope you join in the fun!
----
I completed JMBR Disc 7 for the final (until next go around) time last night. My triceps and abs are sighing a big sigh of relief tonight. Although, I get the feeling they will be begging for 7 back here shortly. Tonight marks my last time having to do the circuit of death in Disc 8. Hallelujah!!! I've got my last Cardio 2 on Saturday, rest on Sunday and then DUN DUN DUN... Phase 3 starts Monday.
As promised, I will be back on Monday with my Phase 2 results including the dreaded progress pictures. Eeeek!
Hope you all have an awesome weekend!