When I first decided to start a blog, I didn't know
exactly
what I wanted from it. I wasn't completely positive what my goals were with my fitness and healthy lifestyle. Quite honestly, I didn't think I'd stick with it. For this reason, I chose a generic blog name; According to Tiffany was born. Boring. And had/has nothing to do with what my blog will, more than likely, be about.
While I know I'm going to have slips here and there, I am fully committed to my new lifestyle. In fact, fitness is becoming a real passion of mine and I'm beginning to form new goals on what I want to do and where I want to be in life as a result. This required a change in my blog. I had decided on a name a few days ago, and on a whim decided to switch my URL over today before it got snatched up or something. In doing this, I lost all of my Bloglovin' followers!! Oh no! I hope you all find me again! I've loved getting to chat with some of you and may have to hunt you down and beg you to come back. If you aren't already following me on Bloglovin', you should.
2. Word on the street is GFC is going bye-bye the end of the month!
So, without further a-do... same blog, different name. I am now "The Fit Train", also known as Tiffany. I'm hoping to have everything up and going by Monday, we will see!
----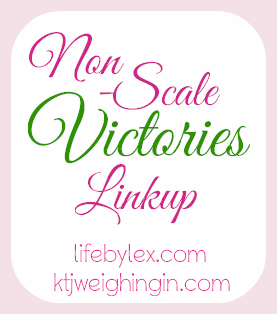 On to NSV's for the week. Once again, it's a run! Yesterday was National Running Day, so naturally I had to run. Wednesday nights are the only guaranteed night I can run, so it worked out perfectly.
My dadburn app quit on me before I actually stopped running! I was not a happy camper with Runtastic last night. I ran 3.1 miles in roughly 33/34 minutes (give or take). This is only my third or fourth run since starting this journey, and the farthest I've ran yet. This made me a happy camper! I just wish I could see it in black and white! UGH! Oh well...
I'm also back on track with JMBR and my eating. I even managed to keep my arms up during the entire
disc 8-circuit 3
and lived to tell about it.