Towards the middle to end of June I reached my 20 pound loss mark. Feeling a sense of accomplishment, I started to get a little lax with my eating. The occasional cheat was turning into a daily cheat and I justified it to myself. I'd just lost 20 pounds! I can afford to eat some junk again, right? Wrong. 20 lbs is awesome, and I still feel great about that. The problem was, I'm no where near goal. Not only that, but this journey isn't just about losing weight for me. It's about being healthy inside and out. I want to be strong, not just physically, but strong in healthy food choices and life in general.
As you all know, I started my photo food log experiment. It definitely helped some, but still wasn't giving me the structure that I needed at this point. Then, I heard about the Dukan Diet. It is a form of a
Low Carb Diet
with a customized
Weight Loss Plan
. I want to explain the program a little bit since I've been pretty vague about it up to this point. I'll have progress pics at the end of the post, so bare with me a bit!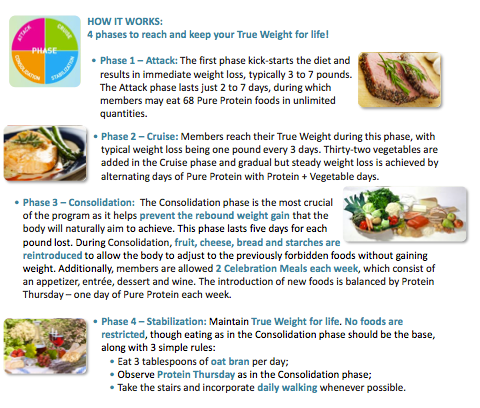 As you can see above, The Dukan Diet is a physician formulated program with 4 phases to help you reach your "true weight." You don't count calories on this program. You can eat as much as you want within the 100 allowed foods consisting of lean proteins, select veggies and
Oat Bran
.
You can find your true weight by answering 80 questions about yourself (eating habits, build, lifestyle, pregnancies etc...) This info is used to determine what your true, healthy weight is. BMI and other weight loss programs are very vague. Dukan Diet makes it personal, which I really like. My True Weight is 138.
My favorite part about the program is daily accountability. With Dukan Diet
Weight Loss Coaching
(less than $1 a day) you fill out a report about your day with current weight, measurements, exercise, motivation level, and the next morning they send you a response based on your answers. I've never seen any weight loss programs that do this, and I've tried many.
----
Finally,
on to my experience with the program.
I was nervous about starting. This program takes away all of my favorite foods. But, this was a good thing. I don't want to cut them out forever. However, I knew I needed to for a time being so I could learn to not depend on them. My body (and mind) needed to learn to eat them sparingly. So, I decided that a drastic change for some time is what I needed at this point in the game.
Knowing I was starting the program, I did something very bad. I ate junk, and a lot of it, the day before. I gained a few pounds doing so, and starting the program back up at 176 (I'm 5'4").
Coming from a girl that was once a vegetarian and really could care less for meat, the attack phase was extremely difficult for me. I don't eat fish or seafood which really limits your variety on the program. By the end of day 2 with no sweets or carbs, I thought I might be dying. No joke. Who knew it was possible to have withdrawals over
food?
This was a huge eye opener for me, though. I depend on food far more than I ever realized. Since the attack phase, I'm trying to learn that we eat to fuel our bodies. Not for comfort or enjoyment. There is a purpose behind it, and I need to choose my foods with that in mind.
I lost 5 pounds during my 6 days on the Attack Phase, bringing me back to my pre-pregnancy weight. Woohoo! 5 lbs in less than a week is a big loss, and I think that might explain some of the plateau that I've experienced the past 10 days.
These shorts were bought towards the beginning of the Dukan Diet. This picture was taken one week later.
Now for the official Before/Afters (weighing in at 171.2.)
Darn plateau anyways...
If you wish to try the Dukan Diet you can get 25% off Dukan Diet Coaching by using code:
F13BG25
I'm off to climb a 14,000 foot mountain (yikes!). Hope you all have a great weekend, and don't forget to link up with us on Monday for Motivation Monday!
Disclaimer: This is a sponsored post for the Dukan Diet; however, all thoughts, opinions and results are my own.