Thursday; one of the greatest days of the week since we get to focus on non-scale victories.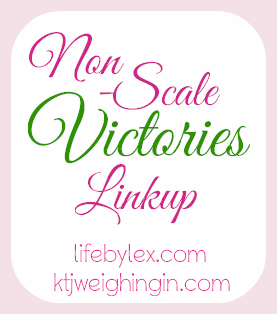 1. I shared this on Monday, but I'm going to recap yet again. I completed a 6+ mile backpacking trip this past weekend. It was absolutely amazing. Hiking through that gorgeous terrain gave me a chance to really reflect on some things. I've been so focused on how far I still have to go, that I forgot how far I've actually come. It was not an easy hike. It's uphill and a good mile or so we were climbing over boulders. Yet, I felt on top of the world. I'm positive I could have even ran through some of it which was a great sense of accomplishment.
2. I was offered ice cream last night and I declined.
3. I completed JMBR!! Results will be up for Motivation Monday this next week. Never in a million years did I think I would follow through with it. I also chose my new fitness route and have started my 4 week program from
efitmama
.
4. Wednesday is a cardio day for me, and the one day a week I'm guaranteede the opportunity to run. As I was getting off work, the thunder clouds were coming in and severe thunderstorm warnings were blaring on the radio. I was discouraged and figured I'd just do a quick cardio workout at home. I finished my second 20 minute cardio workout, and decided to head out the door and pray I wouldn't be struck by lightening. I managed to get 2 miles in before the rain started, and it was a PR! I finished under 20 minutes.
5. One thing I've learned through this plateau is the importance of progress pictures. That is what has been keeping me motivated the most. I'm curious as the changes I'll see while on Erica's program, so I snapped a little flex picture for a "before" reference. I was pleasantly surprised to see a little bicep showing up.
So far, it has been a really positive week and I hope it continues!