Yesterday was my weigh-in and the scale loved me this week! I'm down 3 more pounds for a total of 18 since I started JMBR. Yesterday also marked the start of week 7. Holy cow does Jillian step things up every two weeks! That is my favorite thing about the program though. Every time you start to get bored with it, or they start to get easier, you progress to bigger and better things.
Wyatt loves it too. So if you don't believe me about how great it is, believe him. He says he is "stong."
He "works out" with me nearly every day. I try to get my workouts in first thing in the morning, although sometimes it doesn't happen until we get home from work/daycare. One of my excuses for not getting my health under control was that I didn't want to lose precious time with him. He gets up for the day by 5am at the latest. I'm too exhausted to work out after he goes to bed, and there is no way this girl is getting up at 3:30 am by choice. Once I made my work-outs a priority, my only option was to include him. They may not be as effective doing it this way, but it's better than nothing at all. We make it fun and Wyatt even throws a fit when it's over. Mama gets her work out in, Wyatt is learning a healthy lifestyle early on, and we both enjoy it (well, I think he enjoys it a bit more than me). Win-win-win.
Moving on to our busy week ahead ... My little brother graduates from high school on Thursday! Which means a road trip. We leave Wednesday afternoon for our 7 hour drive. Oh goody. There's nothing like having a toddler cooped up in a car for 7 hours. However, it will be nice to see lots of friends and family!
I'm a bit nervous for the trip. Not cooking for myself, and a hectic schedule will be challenging in the weight-loss department. I'm not setting my sights too high this week. My goal is to not gain. I will be happy with that. Which brings me to...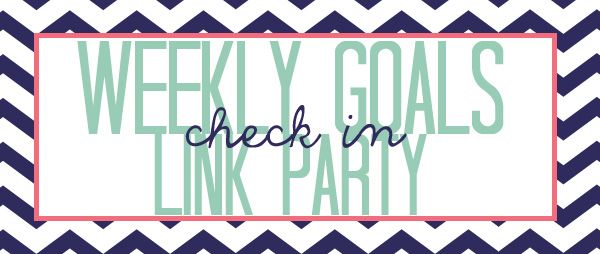 As I mentioned earlier, this week is going to be a bit different since we're going on a little trip. Mom's home cookin', and graduation celebrations that are sure to consist of amazingly delicious not-so-good for you barbecue and desserts is going to make it a challenging one.
#1 Don't Gain: Normally I shoot for 2 pounds a week. This week I will be perfectly happy if that scale stays the same. I'm going to work for a loss, but I'm staying realistic here.
#2 Run: I love running, or I used to. However, there aren't many opportunities for that these days with the little man around. So, I want to go for at least a 3 mile run while we are staying with family. That is what Grandma's are for.
#3 Drink Water: I do great with this during the work week. I have a desk job, so my water bottle is right in front of me. It's a different story on the weekends though. I just don't think about it. Since I have an extra long "weekend", but goal is to still drink my water.
Happy Monday! (Riiiight)